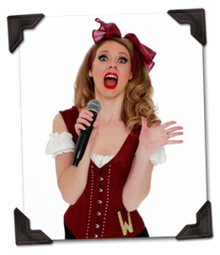 Sarah Jessica "SJ" Rhodes is an actor, singer, dancer and Vegas performer; she is married to Jacob the Audio Guy. She is a frequent presence on ICS, especially on episodes recorded at Jacob's and her's house, is a sometimes fill-in co-host, and frequently plays characters during Holiday episodes. She sometimes portrays Jill Bill, the kissing cousin of Hill Bill in his stage show.
She performed with Raiding the Rock Vault in Vegas as well as creating the costuming for the show, she appears regularly in The Worst Show in Vegas, and occasionally as Absinth's Green Fairy.
There is a sword in her bathroom.