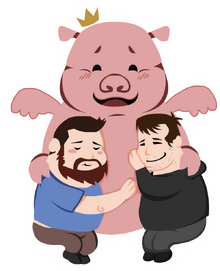 A winged pig; the mascot of Paul's hometown's Marion County Ham Days Festival in Lebanon KY. First mentioned in Episode 022: All Hail Pigasus!, Pigasus is rumored to lure his non-winged pig companions to their doom in exchange for cash from The Bacon Man.
"Hail the winged. Two wings good, no wings bad." - Pigasus
Community content is available under
CC-BY-SA
unless otherwise noted.