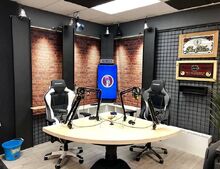 A permanent or semi-permanent recording location for the podcast. The name was proposed by Paul on Episode 87: "Sorry, Your Majesty"
Originally in Show Creator's studio. Sometime in the past, they broadcast from the Inspire theater.
Next at the home of Jacob the Audio Guy.
Following that, there was a dedicated office space until that building closed after Episode 484.
The Churn 7.0 at Show Creator's Studio was moved into on 9/19/2018. Scoopfest 2018 was hosted at this facility.