Obi-Wan Finale - The Loop
Play Sound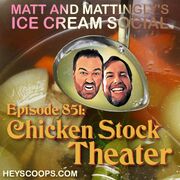 Original Air date: December 9th, 2021
Caption: Paul is very candid about his wife funky valve. The boys re imagine the musical Rag Time. Also, what have you eaten to get what prize. Scoop Mail, Jock Vs Nerd Trivia.
Running time: 1:29
Recording location: The Churn Version 7 and Paul's Playhouse
Topics
[
]
Jacob has no Ice Cream Truck Drivers to read.
Paul announces that he's drinking Monster Juice. Paul talks about getting his car worked on by Mr. Tire. They did some work on Anne's wheels and tire and she had a funky valve. Paul gave an update on a Soap Opera that he was watching for two days in a row thanks to consecutive days of working on the car.
Matt describes the cosmetic treatment called "Thermal Abrasion" that Piff got done and it made his face look burnt before healing and looking better.
Jacob recalls a comparison between the total length of the Simpsons vs. Guiding Light. All the Simpsons episodes would take a few days to watch; Guiding Light would take 9 months. Paul proposes doing a daily improv grind and getting housewives to get into improv to beat the Guiding Light's length. The hosts recall Falcon Crest and talk about the current state of Soap Operas.
The hosts talk about their experiences in doing a Summer Stock theater. Jacob talks about the big musical of Ragtime. Paul states that that place only served soup at the plays so it was a Chicken Stock Theater (Episode title reference).
A fake commercial for Manassas Sassafras Bass Bait.
The hosts talk about racially insensitive but not insulting musicals and the changing nature of Charlottesville, VA.
The hosts reminisce about having a perfectly sweet and hot food from their youth. Jacob recalls the Devil's Waterfall wings. Another time he challenged a chef to make wings that were too hot for them and the chef won that challenge.
Matt tells a story about being challenged to eat a slinger at a Chicago diner where the winner would get a shirt with a kid shitting on it. Jacob talks about seeing a large steak eating challenge as a child. Paul recommends putting coke on a steak to dissolve the gristle.
A Fake Commercial for Your Face On Soap.
Paul went to go see a Bobcat Goldthwait performance. The hosts reminisce about having a comic open for a rock band.
The hosts talk about Adele coming to Las Vegas and the move of the Brad Garrett comedy club.
Scoopmail
[
]
Christine Olin Elsesser sent in a Shitty Job Story about having a very bad interview response. The hosts try to come up with interview questions.
Legendary Scoop sends in a story about wanting to buy a fire extinguisher and the person at the store sent them to the store's fire extinguisher.
Scoops of War sends in a Shitty Job Story about having to clean a bathroom.
Jock vs. Nerd
[
]
The hunt for balls theme is played. Crock-a-dunk scoop and Deadman from VT Network send in a Scoopardy.
Characters and Bits
[
]
Considerate showers of the Red Shoe Diaries
"Can't we just have a nice Xmas where she sucks me off under the table"
Tricky Baby - a stripper with an extremely baby-looking face
Ragtime - a musical about a menstrual cycle; Jolson's Ragtime is about minstrel cycles.
Carribean Jerk seating
Turkey is too hot for Matt's kids
"I tied a dick to a coat rack"/"I treat that coat rack like an old man" by Bonnie Rait