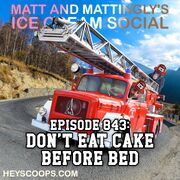 Original Air date: November 11th, 2021
Caption: Paul gets a hair cut. Jacob has to put his shoes on for an easy day. Scoop mail!
Running time: 1:25
Recording location: The Churn version 7 and Paul's Playhouse
Topics
[
]
Paul talks about how hunky the people repairing his back yard were. The foreman had to get out a calculator to get the total after their $1000 down payment.
Paul tells the story about getting a haircut and hearing some hairdressers give a detailed analysis of COVID vaccinations.
Jacob tells a story about reviewing his facebook notifications to see a response of "Oh, he gonna die."
The hosts give a summary of revelations about Mike Pence and the January 6th insurrection.
A Fake Commercial for Paul Mattingly's Instructional Guide to Beating a Dead Horse; 4th Edition with more monkey jokes (episode title reference). See Paul Mattingly's Nine minute Monkey Joke.
Matt gave an update on Sarah's recovery from the car burglary. Jacob talks about some flooding that happened in their guest wing.
The hosts do a Sporty McBall Things Considered about a Steeler's game that they watched. Paul said that one of the kickers had a "Noodle Leg."
The hosts talk about Marilyn Manson becoming an Evangelical Christian with Kanye.
Scoopmail
[
]
No Name Given writes in about bad Hoosier and Buckeye drivers and an OnlyFans account from the sequel of some ass they had 20 years ago that cost $25 per month.
Yorkshire Scoop rants about COVID guidelines in England.
Jock vs. Nerd
[
]
There was no Jock Vs. Nerd due to time contraints.
Characters and Bits
[
]
"I put a needle in my sack" to the tune of "I'm Proud to be an American" as a tribute to de-ageing a nutsack.
A comb with no teeth and instead, there are nits.
The hosts describe a wall that is all wood parts (baseboard, wainscoting, chair guard) with only 2 inches of drywall.
"Newborn Christian" - Paul Mattingly
Aesbestos Lead Paint/As Best As Paint