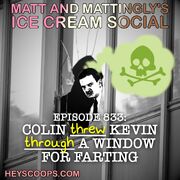 Original Air date: October 7th, 2021
Caption: Paul goes to a Sheets for the first time! Matt is going cat crazy and the neighbors might notice. Jacob does a favor for Bambi. Scoop mail and Jock Vs. Nerd Trivia- Price is Right edition.
Running time: 1:43
Recording location: The Churn version 7 and Pittsburgh
Topics
[
]
Matt informs Paul that Facebook is not good for him. Matt reports that he is sitting in Paul's chair to save his neck.
There is some sports talk and not good sports but NFL Football.
Paul describes his Sheetz experience. Jacob pulls up the menu to review what kinds of things he would be ordering. They start talking about potato skins and elicit the playing of the Fatty Rabbit Hole.
Matt tells a story about his continuing battle with the neighbor's cat.
The hosts talk about Padiddles and Padaddles of which Anne was unfamiliar. Matt's version of this game involved punching. The hosts reminisce about how much they gave an received punches from their brothers. Paul recalls a neighbor set of brothers where one threw another through a window for farting (episode title reference).
Matt talks about how his brother regularly drove a car before he got his license. Matt shares a story about his brothers attempting to paddle a raft to the amusement park. Paul and Jacob share their much milder stories of childhood boating.
A fake commercial for an 80's style Dating Game for Supervillains.
Matt has put tin foil on his fence to try to keep his neighbor's cat away.
Jacob tells a story about chopping down a tree for his neighbor and is still sore from that much work. Paul also has a complaint about being sore form doing chores.
The Healthy Rabbit Hole jingle is played.
Scoopmail
[
]
Tin Scoop sends in an email about losing weight as a double amputee. Matt suggests drinking vinegar.
Jock vs. Nerd
[
]
The explosion theme is played. Goof Scoop sends in a Jock Vs. Nerd "Not Price Is Right."
Characters and Bits
[
]
Tits on a Roller Coaster, Two Bits
Powerade is used to mask the flavor of Antifreeze.
Paul uses the word "Portaging" correctly
"By swimming pool you mean you stood in a barrel and got wet"
Cooch Commander
Cobra Commander addresses his rival of Cooch Commander
Clit-N-Stein
Hose Games