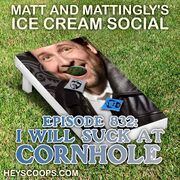 Original Air date: October 4th, 2021
Caption: Back from Austin, Matt and Jacob treat guests to a Jock Day. Paul adjusts to life in Pittsburgh. Scoop mail and Jock Vs Nerd Trivia.
Running time: 1:32
Recording location: The Churn version 7
Topics
[
]
Matt talks about coming back from being on Great NIght where they do an hour of pre-show prep. Matt says this as he sets his bags down from the airport.
Matt talks about his new tour of Brian Brushwood's compound in Austin. Jacob recalls some surprise arborism last time they were there.
The hosts talk about the unique qualities of "Friends and Family" audiences. Paul recalls a world record Donkey Kong run that has a child yelling about having to poop in the background.
The hosts talk about how difficult old video games are when they revisit them. Matt compares that to being bad at cornhole (Episode Title Reference).
Matt talks about doing a wide array of podcasts in Austin. This includes getting to meet the fighter Chuck Liddell.
A fake commercial for Second-hand catapults.
The hosts talk about Matt's performance on a wrestler-based trivia game from Great Night.
Jacob went to a wedding with a lot of social media documentation. Matt tells a story about attending a wedding and using the disposable cameras to take pictures of ballsacks. Jacob tells a parking story related to the wedding.
A fake commercial for Tramp Stamp Instant Removal.
Jacob talks about the celebrities that he encountered at the wedding including Chumley from Pawn Stars.
The hosts talk about a possible future interview of Paulie Shore.
Paul talks about spending money on necessities for the house. He talks about purchasing a couch and a waterbed. He also cleaned out the garage and has no good story. Matt calls for questions about the state of his garage.
Matt tells a story about a guy that gets robbed at a Lodge Bar and they charged the bartender for the money that was lost during the robbery.
Scoopmail
[
]
Diamond Scoop sends in his story about finding money.
Jock vs. Nerd
[
]
The hunt for balls theme is played. Bear Scoop sends in a Halloween Scoopardy.
Characters and Bits
[
]
I'm OK at sucking at corn hole. - Paul
Use two fingers to Tickle or Butt
If the opportunity arises, I will suck at corn hole. - Paul
Leaving flowers and pasties where the Glitter Gulch used to be on C-section scar road
Spiders Galore in the basement