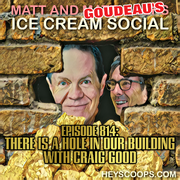 Original Air date: August 2nd, 2021
Caption: welcome back to ICS, Mr. Michael Goudeau. Is Goudeau heading to a state fair nerar you? Plus, Scoop Mail and Jock Vs. Nerd.
Running time: 1:43
Recording location: The Churn version 7
Topics
[
]
Matt announces that Paul has not yet arrived. Michael Goudeau is sitting in Paul's chair. Matt also introduces Craig Good as another guest in the studio. They talk about the new mask mandate situation in the casinos.
Craig gives his review of Piff. He also reviews his working in private security which included him noticing a hole in a building where gold could be sent out (episode title reference). He was a janitor that took a coding class at Lucas Arts that worked his way into a job in digital effects there. He was one of the people that was spun off into Pixar in the mid-80's. Paul's laugh appears during his stories.
A Fake Commercial for Beverly's Badass Babkas.
Craig's stories about working at Pixar continue. He talks about teaching at a special effects school.
A Fake Commercial for Urethra Franklin's Songs for Sounding. Featuring the sounding parody songs: What's love got to ding with it (What's love got to do with it), Simply Relax (Simply the Best), I will Sound you until you tell me to stop or say the safe word (I will always love you) I would do anything with a glove (I would do anything for love).
Goudeau talks about going on the road to do his act. He has a plate spinning routine that he talks about. Goudeauthejuggler on instagram has the dates and places.
Matt asks Craig if he can assign his students to make animatics of clips from his podcast. Craig is non-committal. Craig announces that he has a book coming out.
Scoopmail
[
]
ScoopEd sends in a story about stealing a car and driving it to his girlfriend's and getting in an accident.
Drew sends in a cautionary tale about following Paul's advice about the engrossing power of The Legend of Zelda: Breath of the Wild.
Jock vs. Nerd
[
]
The explosion theme is played. The hosts and guests play a Scoop Price is Right game.
Characters and Bits
[
]
Steve Jobs celebrates by saying "Broccoli for Everybody"
Down the follow-up to Up about a kid with Down Syndrome.
Jeffrey Katzenberg was a "no" guy that didn't have good suggestions but could identify a problem.