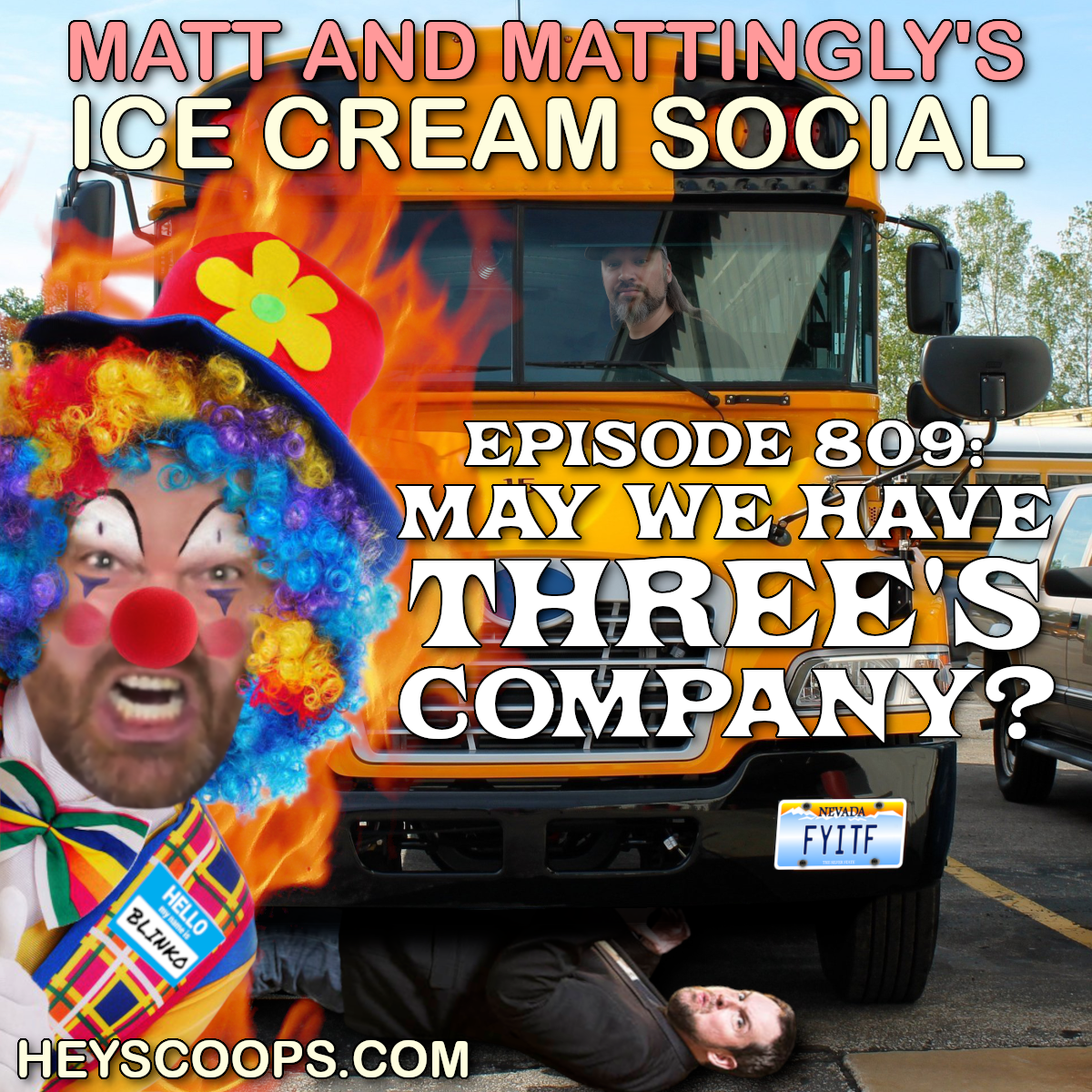 Original Air date: July 15th, 2021
Caption: Matt and Paul discuss their movie pet peeves. Scoop mail, Jock Vs. Nerd trivia
Running time: 1:40
Recording location: The Churn version 7
Topics
There is no talking over the theme song in this episode.
Jacob is trying to be more complimentary of himself during the intro.
Matt points out the frequency of the phrase "we've got company" in shows. Paul identifies the phrase "we need to talk" as having a similar pattern. Paul really hates that phrase and how modern screenwriting has ruined it.
Paul tries to tell Matt that there was a fire at the clown factory with and without prepping him with "we need to talk." They have to tell Blinko's family about his perishing in the fire.
Jacob dislikes the padding phrase "Can I ask you a question?" They mock teachers that are smart-asses about this phrase.
Back to "we've got company," the hosts talk about how this used to be a cutesy sarcasting comment in sitcoms. This makes them think of "3's company" (Episode Title Reference).
Matt talks about the phrase "throwing someone under the bus." Paul tells a story about going to Austin and taking a tour of bus accident locations. Paul sings a song about getting snacks from a safety video.
Ice Cream Cone, Soda Pop

Mommy Has a treat

I can't wait til I get home

Something good to eat.
Matt talks about taking flights to Jersey and watching LA LA Land. He replays a phone call between an agent and Emma Stone.
A Fake Commercial for DVD box sets of Snowpiercer.
Matt talks about watching True Detective and seeing how white the show was with a recent release. Matt talks about purchasing and buying Black Window. He did not like this movie. Paul talks about how not everything can be deconstructed. Matt relates that to his previous attempt a deconstructing magic.
A Fake Commercial for Foolish Fabian's Fabricated Farting Fables.
Jacob and Matt remind Scoops that if you are a Patron, you can send in your commercial ideas on Patreon.
Matt talks about taking his kids to Jersey and the Jersey Shore. He bemoans the lack of quality diners in Las Vegas as compared to Jersey. Their thoughts turn to the possibility of moving back home or to a smaller market than Vegas. He talks about going to an Scoop's New Jersey brewery and pizzeria.
Laurie and Michael Elzeroth are in studio and Michael does not have his eye patch.
Scoopmail
A mystery scoop sends in some small, metal tits.
M. L. Kennedy sends in a copy of his new book 2 minute stories for weird people with a note about his hatred of Matt.
Scoop Me Hard sends in a question about tipping etiquette.
Jock vs. Nerd
The explosion theme is played. Malia sends in a Scoopardy with some Pittsburg flare.
Characters and Bits
Rasta Banana - replaces we need to talk with 'Ear me now
We've got company, where are my pants
May I...can you
You must both be in proximity to the bus in order to throw someone under the bus.
Hollywood Ouroboros - a movie about making a movie or acting
N64 controller glory holes
Robert the Doll