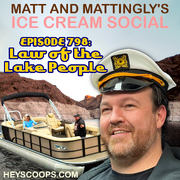 Original Air date: June 7th, 2021
Caption: Matt takes a lake safety course and it comes in handy. Scoop Mail and Jock Vs. Nerd See omnystudio.com/listener for privacy information.
Running time: 1:48
Recording location: The Churn version 7
Topics
[
]
Matt tries to goad Paul into having ill-informed sports opinions. Matt has a proposition for the best way to fix the NBA playoffs to have Kendall Jenner's current and former boyfriend play eachother.
Paul gets short-circuited talking about J.J. Abrams work in Star Trek and Star Wars. Jacob is disappointed by Jason Kidd.
Matt wants to fuck a Carl's Jr's Chicken Sandwich.
The hosts talk about watching TikTok. Paul has stories about people finding out that strangers have been living in their walls/attics.
A Fake Commercial for Paul and Donnelly's Kebab Rendezvous. A Kebab of oysters, mushrooms, green M&Ms, rhino horn, elephant tusk, and tiger penis fried in a champaigne sauce.
Matt talks about being a voyeristic showerer.
Matt tells his story about getting a boat from Lake Mead. This involves taking a test to get the temporary boat license. The hosts analyze the way that water from Lake Mead evaporates eliciting a Vegas Parking and Weather jingle.
A Fake Commercial for Nickelback's Vinyl emporium.
Matt continues his boating story. Thanks to his training, he properly navigated the lake in spite of the waves (this is bragging). Matt also left an ice cold Arnold Palmer in the car while he boated that was still cold when he got back.
Matt and Paul compare and contrast methods for being on the lam. Matt will live on a houseboat on Lake Mead; Paul will live literally underground as a CHUD. Jacob says that there are lake people that will help you hide from the authorities. (episode title reference)
Paul has been watching the reality show Ballroom which is a competitive dancing competition based around Vogueing.
Matt fondly recalls Joel McHale's appearance on Wait, Wait Don't Tell me. The hosts reminisce about Public Radio shows. Paul reccommends watching old Youtube video of the Creole Cook (Justin Wilson).
Scoopmail
[
]
Scoop Kay sends in some stories about teaching her young children sex ed with lists of words for a penis and vulva.
Goof Scoop sends a story about dealing with the police in Australia and got off from being pulled over by forcing himself to vomit.
Jock vs. Nerd
[
]
The hunt for balls theme is played. Wiggle Your Scoop sends in a Scoopardy.
Characters and Bits
[
]
Jason Kidd doing a subpar cover of Billie Jean
KFC/Marylin Manson cover band called Smells like Chicken
What we call rice
Orinoco Hole
The Final Bedroom - holes in the ceiling
"Uncrustables on a boat is like heaven" - Paul
Lakeborhood - a neighborhood next to a lake
Chad Nickelback
I'm hear to mow the Motherfucking lawn, where's that goddam gas.
Dips and Spins - original name for Matt and Mattingly
"Old Way" - Super-racist Vogue-ing
Garrison Keillor as a frog
Paul as The Creole Cook that evolves into a Rasta Banana