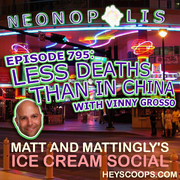 Original Air date: May 27th, 2021
Caption: Paul Mattingly is a Neonopolis Truther as he takes on guest magician, Vinny Grosso who's here to plug his downtown show, Totally Mental (TotallyMental.info enter code "local") Scoop Mail and Jock Vs. Nerd Scoopardy.
Running time: 1:53
Recording location: The Churn version 7
Topics
[
]
Matt brings up an article about a Mega-marathon in China that had 22 casualties. Paul associates dead Chinese people with a video about moving a metal railing.
They introduce Vinny Grosso and his new show at a place called Neonopolis. Jacob recalls a rumor of someone going to rebuild Star Trek: The Experience in there. Voq'ha gives his thoughts on returning to that job.
Paul tries to convince the hosts that Vinny's show that Matt just went to see was not open. Paul returns to the Chinese death video. Vinny states that the Neonopolis actually has less deaths than China (episode title reference).
Vinny talks about restarting his shows under pandemic restrictions. The Paul Kicked the Story Right in the Dick jingle is played for the first time. The hosts talk about the importance of tripadvisor to Las Vegas.
A Fake Commercial for Honey Bunches of Gravel.
Matt plugs his Mystique Dining shows in Utah June 7th-12th with a "HeyScoops" discount code. Vinny promotes totallymental.info/tix for his show with the code "local."
Matt tells a story about a lobster claw machine when the kitchen was closed. It would have lead to much suffering by the lobster.
A Fake Commercial for the Broken Tractor Emporium.
Scoopmail
[
]
Apple Scoop sends in a correction to the previous vaccine and some fun names of lab products that they use.
ScoopaTroopa sends in a blowjob story.
Scorbutic Scoop asks about how the hosts handle the heat and where their ideal weather geography is. Paul would go back to Kentucky for the thunderstorms; Vinny would live in Southern Italy; Jacob would live in Hawaii; Matt would live in St. John's. They all reiterate that they like Las Vegas.
Jock vs. Nerd
[
]
The explosion theme is played. Phillip the SC Scoop sends in a scoopardy
Characters and Bits
[
]
Bubba Fett
Paul as a senile grandma that just barely understands what is going on
Sissolack Slap; Sissoslap - a slap from the Nevada Governor
50 Shades, a Fart Book, and War & Peace makes up a Ruth Bade Ginsburg biography
Paul makes up a Country Song about one's dog dying on the railing.
Gaffled - a word Paul thinks used to be popular
Toe in the Butt is a perfect plug
Paul Reviews the Steak 'Ems twitter account
Matt reacalls eating a Sloppy Joe
Paul ejaculates "Cocaine is Great" in a nice, clean, captureable clip.
The Neonopolis is a lemon drop and cum; the VIP version is on some scaffolding.
Men Build Skyscrapers because they are trying to send a hint.
Olympic Metals made of chocolate with a rhyme from Muhammad Ali.