Episode art by twitter user slakingfool.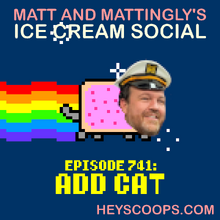 Original Air date: November 23rd, 2020
Caption: Matt explores and pays for cat shipping options. Scoop mail, 9/11, and Jock Vs. Nerd.
Running time: 1:30
Recording location: The Churn version 7
Topics
[
]
Paul tells a story about how his dogs were barking at a religious canvasser that was, in turn, talking to them. He describes how his dogs are living in the pandemic. Jacob has two spare dogs at his house. Matt updates us on the saga of his father-in-laws cats. He priced out transporting cats on a plane. Part of this is a comparison of flight prices including adding a cat (episode title reference).
A Fake Commercial for Sweet Booty Vinegar and the Dirty Sandwich band.
The cat story continues with Matt talking about keeping the cats at their house and Sarah hesitating on getting rid of the cats. He does not give up the cats.
Another Fake Commercial for Sweet Booty Vinegar and the Dirty Sandwich band.
Paul sings a song summarizing Matt's new cat life.
Scoopmail
[
]
Eltzroth sends in a physical scoopmail of a captain's hat for Matt.
Blue Line Scoop send in a description about how it is not a good idea to run from the police.
Magic Shell scoop sends in a story about his pets.
Jock vs. Nerd
[
]
The hunt for balls theme is played. Neck Pubes sends in a Scoopardy.
Characters and Bits
[
]
Dog hell is Dalmation
Dog eh-space is Puppertory
Mass Cat Freighting
Cats that are flight certified that aren't concerned with landing the plane. This joke is then explained. (Inside Joke Explained jingle is played)
Paul is Gilligan, Matt is the Skipper, and Jacob is the Professor.
Paul's birthday is December 1st, Jacob's is December 18th
Crushing it like a poon.