Episode art by twitter user slakingfool.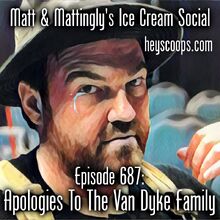 Original Air date: May 25th, 2020
Caption: Nonsense and scoopmail.
Running time: 1:52
Recording location: The Churn version 7
Topics
[
]
Matt talks about his kids being powered by farts to go faster. Paul recalls the movie "Thunderpants" about a person with super-powered farts. Jacob reads the description of the movie.
The hosts struggle to come up with the name "Lizzo."
Jacob's mom compares him to Jack Black. Matt has also been compared to Jack Black.
Matt brings up that a neighbor has had lawn stone dumped on his street for several weeks. Paul recalls the Mammoth Cave in Kentucky where part of the attraction was someone that was squished by a rock. Paul incorrectly remembers that it was part of the 7 wonders of the national world. A scoop corrected him that it was part of the 7 natural wonders of the USA.
A Fake Commercial for Cake-a-day.
Matt reports that he had a second workout after recovering with them after 8 days. SJ suggested that they should broadcast this over twich.
Jacob announces that he has broken a chainsaw.
A Fake Commercial for the Pokey Back Bear.
Matt talks about his trip to Roger's Spring, Nevada.
Paul summarizes a Long John Silver's miniature documentaries.
Scoopmail
[
]
Nathan's Hot Dog Scoop asks about Matt's old in-flight movies reviews and compares it to being on a plane.
Mr. Brain Freeze talked about going to work during Coronavirus.
Jock vs. Nerd
[
]
The explosions theme is played. Macho Man Randy Sprinkles sends in a Scoopardy. One of the questions was about Icy Dicks and Dick Van Dyke was guessed (episode title reference).
Characters and Bits
[
]
Lawn with now grass (to the tune of Horse with no name)
Kegels but with heavy ropes as weights
Shifts of people in the town peeing in Roger's Spring to keep the warm water flowing.
Cloudy Joe makes the natural spring look a little gross.