Episode art by twitter user slakingfool.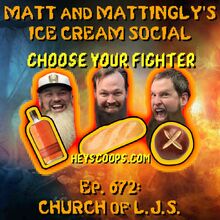 Original Air date: April 5th, 2020
Caption: Covid coping and the fast food bracket challenge!
Running time: 1:56
Recording location: The Churn version 7
Topics
[
]
Paul says that he has masks on order from Etsy. Jacob has masks for his shop. Matt considers using the Tibetan freedom masks from Beastie Boys-based protests. The hosts talk about how their shaving practices have changed with the quarantining.
Anne sends Paul a message about some police activity in their apartment complex. He talk about people smoking weed in their cars. Jacob says that he vapes his pot as a less bad version of smoking.
Paul states that it has been four days since he's had a vegetable and he ate some peas.
Matt talks about his superior breads from his friends and his wife is now baking. Paul proposes using hard pretzels as the bread for a sandwich. Matt talks about drinking extra alcohol during virtual happy hours.
Matt talks about watching Ozark and watching an episode and a half so that he finishes without a cliffhanger. Paul reccommends getting the tubi app.
A [Fake Commercial]] for when Pink Ghosts float up in your butt.
Matt talks about clipping his toenails and how his toenails are deteriorating. Paul brags about how nice his toenails are and his stretching routine.
Matt talks about his kid coming up with a card routine.
A Fake Commercial for Beset sink stain remover. Shiny, Drainy, Leave it out in the Rainy.
The hosts talk about pooping.
The third region of the fast-food bracket is decided. Paul makes a big deal of Long John Silver's (LJS) (Episode title reference).
Scoopmail
[
]
No scoop mail was read on this episode.
Jock vs. Nerd
[
]
Jurassic Scoop sends in a Scoopardy.
Characters and Bits
[
]
A Tony Stark Helmet
Street Run the Juul's Foolish Games
Taking peas off of the vasectomy and popping them in your mouth.
The Lord of Pain burger - the buns are made of roofing material
Lubi - a new video app
Anal Pepto Bismol (to the tune of the Flintstones)
Using a wet wipe is sometimes doing the last third of the process by "Baskin-Robbinsing" the last of the leaving.
Apples to Rotten Cunts - the original name of Penn & Teller
Paul calls cajin food "cagey"
Fishonarry - a disciple of the church of Long John Silver's
New York, New York, but about a New York Strip Steak
Paul has an interesting car fact.