Episode art by twitter user slaking fool.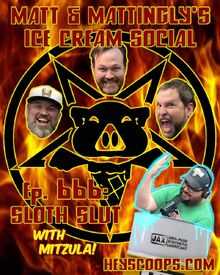 Original Air date: March 19th, 2020
Caption: Mitzy is Satan. Episode 666 is here and like everyone else, our plans for 666 went out the window and Mitzy filled in.
Running time: 1:34
Recording location: The Churn version 7
Topics
[
]
Paul says that he probably going to be gaining a COVID-19 pounds. Jacob indicates that he has been drinking more and eating less. Matt introduces Mitzula working.
Jacob warns that he isn't usually around his wife so much. The hosts talk about what they're doing during social distancing and homeschooling.
Jacob watched The Black Cauldron. Paul watched a 2-year-old replay of a fighting video game championship. This leads them to ask users to write in with thei #comfortcrap.
Paul shares how much he spent on some toys.
A Fake Commercial for dirty math for adults and kids.
Jacob went to a session of D&D.
A Fake Commercial for How Many FIngers by Alfonzo Pickeltaint.
Scoopmail
[
]
Scoop, Bike, Run writes in a story about his dog nearly killing him.
Goop Scoop sends in an email about his wife's tatoos.
Goop Scoop sends in a second email asking about what the next tattoo she gets should be.
Black Scoopicorn sends in some Spanish translation information about a sloth meaning "lazy bear." He lead a class in chanting "Sloth Slut" (episode title reference).
Jock vs. Nerd
[
]
The hunt for balls theme is played without the moan being talked over. King Scoop sends in a Scoopardy.
Characters and Bits
[
]
Bidets for Days
Bidets and nights
I taste the rains down in Assfrica
Ass Babies (To the tune of transformers)
Radio station of WHOR