Episode art by twitter user slakingfool.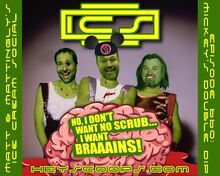 Original Air date: February 27th, 2020
Caption: We are going back to Austin Texas to do an event with Night Attack! Check out: https://www.scamstuff.com/products/2020-picnic
Running time: 1:25
Recording location: The Churn version 7
Topics
[
]
Matt starts out by ranting about how Disney isn't including Frozen 2 in Disney+. He and Paul do impersonations of Mickey as a sexually and physically assaultive gangster. Jacob explains the release to buy/rent process.
The hosts talk about thier plans to go to the Hundred Acre 'Schwood in Austin.
Paul tells people about his wife getting an award in Ohio.
Matt talks about his upcoming gigs in Baltimore.
A Fake Commercial for Tom Steyer and her daughter.
TLC but as zombies that wants no scrubs, just brains. You don't have to put on a Brain Light.
The hosts talk about making parodies of showtunes to bother Matt's oldest child.
Jacob tells a story about finding a cross burning in the woods as a child. Matt identifies the Klan members as "just hangin'"
A Fake Commercial for Ku Klux Clue the KKK game show and home board game.
Scoopmail
[
]
Emmel Kennedy tells a story about a coworker that believes in crazy things.
Scoopsquatchxing sends in a correction about the Beta vs. VCR and porn-influence.
Scoop of Faith sends in a story about living together for the first time after marriage.
The Protein Scoop writes in about his process of learning to be a voice actor.
Jock vs. Nerd
[
]
The explosion theme is played. Dr. Scoop Little sends in a Scoopardy.
Characters and Bits
[
]
Cock Vs. the Volcano
Porn in the Woods - to the tune of into the woods.
Burn a Cross - to the tune of Bright eyes
That guy has a case of the dumbs.
Skyline Chili - a porn nickname
Splatty pads for peeing instead of peeing in potable water.