Original Air date: December 30th, 2019
Caption: Paul asks a questions for the ages.
Running time: 1:30
Recording location: The Churn version 7
There are visiting scoops from Canada in the studio.
Jacob complained about how early a store was playing xmas music and he miscalculated how many days were in this next year as a leap year. Matt recalls a friend that was born on a leap year. Paul makes a reference to a Mork and Mindy character.
Matt indicates his kids were on General Hospital for a holiday special episode. One of his kids pointed at the camera during a shot.
Paul starts to tell a story about a guy bringing home a porpoise. The hosts start talking about the difference between a dolphin and a porpoise.
A Fake Commercial for Best is Aespestos in the Westes in a pie tin.
Matt talks about seeing the Atomic Saloon Show, which has Matt's wife in a sexually suggestive position. He brought his father and brother. His father had a glitter thong stuffed in his mouth.
The Canadian visitors have brough in some Physical Scoop Mail of having Penn sign Matt's name on her tits. He also brought some Root Beer Float Vodka.
Scoop in a Barrell follows up on naming his child's middle name as the winner of his Jock Vs. Nerd
Hellena Hand Basket sends in note letting them know that Henna tattoos to cover a bald spot are not a good idea.
Neck Pubes sends in a "fuck you" to Paul because of his love of blankets compared to his lack of sleep.
Sexy Mother Scooper (Big Sexy) is listening to both old and new episodes at the same time.
The Hunt for Balls theme is played. The Sald Lick Scoop sends in a Jock Vs. Nerd featuring the Nathan W. Pyle Strange Planet cartoon.
All Poirpose Tuna, dolphin safe and tuna safe
Hooker Card Go Fish
The hosts call for takes on old news
Episode Art by twitter user @SlakingFool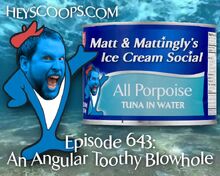 Community content is available under
CC-BY-SA
unless otherwise noted.