Episode Art by Twitter user @slakingfool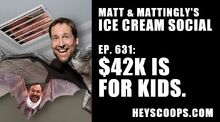 Original Air date: November 18th, 2019
Caption: A special guest appears in at a Piff Show. A fantastic scoop mail follow up. Jock Vs. Nerd.
Running time: 2:03 (123 minutes)
Recording location: The Churn version 7
Topics
[
]
Matt, Paul, and Jacob talk about things. Paul probably creates a character. Matt says that he loves Nazis. Jacob recommends drinking.
Scoopmail
[
]
{{{Scoopmail}}}
Jock vs. Nerd
[
]
{{{JockVNerd}}}
Characters and Bits
[
]
{{{Any memorable characters or bits created}}}