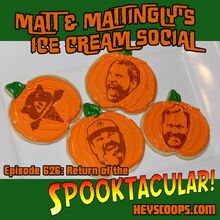 Original Air date: October 31st, 2019
Caption: Halloween!
Running time: 1:23 (83 minutes)
Recording location: The Churn version 7
Topics
[
]
The Spooktacular episode is a (usually) annual tradition where Scoops send in requests for characters to come trick or treating at their door. Jacob stated that there was a freeze warning in Vegas prompting the Vegas Parking and Weather jingle. Paul talks about trunk or treating. Matt talks about how his child didn't go to any doors last year to get any candy for Halloween.
The hosts talk about trick or treating and sex offender's houses.
Matt tells a story about someone wanting to use the Scoops as a voting service which he does not sell them as. He states that because the hosts cannot order the scoops to act, they are not a cult.
Paul had previously asked for scary stories but only one person wrote in a scary story. Through the twitch stream, more stories were submitted.
Trick Or Treating:
[
]
Bob Ross Streisand
Bing Crosby, Vampire Feral Child, and Sexy Brett Kavanaugh all try to win their neighborhood as the best Halloween neighborhood.
A Fake Commercial for Johnny English's Halloween Sex Offender and Celebrity Bike ride. Random tandem underhand-em.
Spooky stories
[
]
Heavy Creamer scoops sends in a spooky story about seeing a UFO.
Mobius Scoop sends in a spooky story about a spider nearly killing him in a car.
A Fake Commercial from Jim's Bat Mom Twice Cooked Jam Jellies and Jar Jellies.
Spooky stories (continued)
[
]
ScooperNova Girl sends in a story about a ghost named Alice in a theater.
Paul tells a story about seeing a Ghost at Star Trek:The experience
Trick or Treating (continued)
[
]
Officer Bigger foot that is a foot taller than normal Bigfoots
One of the Four Horsemen that is actually just a Horse Man that shits in the cop car
A Preacher that spreads the gospel that the shoulder is the knee of the torso
Raul and Migel deliver some bagels and butter and makes it a Dick Butter Christmas
Spooky Story (continued)
[
]
Makes me want to Scoop lets people get stuck in their bathroom and tells them about a grandfather that died in that bathroom.
Jock Vs. Nerd
[
]
The explosion theme is played. Last Scoop 'O Nine sends in a scoopardy with topics of Ice Cream in Movies, the hunt for balls, Matt and Mattingly's, and Ice Cold Crimes.
Trick or Treating (continued)
[
]
The Haunted Italian Family
Episode Art by twitter user @slakingfool