Original Air date: October 17th, 2019
Caption: The boys are taken to a shady undisclosed vegas location, fed amazing brisket in a wonderful Jock Vs. Nerd day. Jim from Pod Therapy stops by. Scoop mail and Family Feud.
Rob Brown, Walter Scoop Check, goes through the food that he prepared for the day.
Jim gets on the microphone to talk about Podtherapy. Jim talks about his mom.
A Fake Commercial for a fake and a real Jim's mom.
Jim's mom is first a rodent bat and then a baseball bat. They perform AC/DC songs to this theme.
Running time: 1:32 (92 minutes)
Recording location: A Meth Lab (Air BnB)
Topics
[
]
Matt notes that they are participating in a Jock vs. Nerd day and they are recording this on the road rig. Matt identifies the brisket that they made as the episode title. Paul took people to a comic book shop as a part of the nerd day. Jacob went along with him and did not buy any comic books.
Also in attendance are Jim from Pod Therapy, Ryer, Jim NolaScoop.
Paul talks about the new decals on the stormtrooper decals on his car. The neighbor's daughter is named Jedi.
Brooks is also present and tells a story about his rapport with his neighbor. He imagines his wife has his picture in a place of honor.
A Fake Commercial for Cheyanne LeBleu who made a toothbrush just for masturbating. His partner is a registered false dentister.
The hosts talk about any effect that Podtherapy has had on Jacob. He claims it has no effect.
Scoopmail
[
]
Luke Scoop Skywalker sends in a follow-up about his smelly steak and apologizes for shaming the smell of women's genetalia.
Who Dat Scoop sends in a letter about him trying to Obelisk his girlfriend.
Scoopybartfast sends in a story about working night shift for the Air Force in Afganistan.
Jock vs. Nerd
[
]
The hunt for balls theme is played. A game of "Survey Says" has been prepared for the Jock vs. Nerd day. This is in no way similar to a game of Family Fued. Topics were Partner annoyances, Favorite ICS Character, things that Matt was into in his 20's, and the second best 80's wrestler.
Characters and Bits
[
]
Kentucky Stink Eye - a toothless blowjob
Dianne that is masturbating with the wrong end of the vibrating toothbrush.
Old Butthole Mouth to the tune of "Old Man River"
UPS stands for Upright Squirting Penis
Paul performed an angry Miss Piggy voice for Jim's mom and she turns into a bat.
I am a real marsupial to the tune of I am a real American
Paul propses getting halloween ideas for return of characters and spooky stories.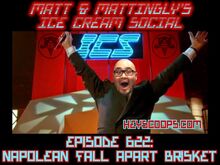 Episode art from twitter user @slakingfool